Do you have content, hanging out in the archives of your blog that is amazing but rarely sees the light of day?
Won't it be cool to use that awesome but hidden content in a way that could keep visitors around longer and help them to become fans of your blog?
One of the easiest ways I know how to do that is to create resource pages on your blog.
Now you'll no doubt recognize these type of pages but maybe hadn't given them a whole lot of thought or fully appreciated what a difference these can make for your readers – and your subscriber numbers.
What is a Resource Page?
A resource page is simply a page on your blog that highlights useful posts and information about a certain topic you blog about.
The idea is to create a go-to resource so that readers can find your very best content quickly.
Later, in the examples section, you'll see a variety of ways to set up your own page, but even though the pages themselves look different, their goal remains the same, provide valuable information for your readers in an easily digestible way.
Before we go into creating a page, I wanted to mention the way that a lot of bloggers, and maybe you, are handling your old posts right now.
It's a common practice to create what's called a category page (or a label page if you're on Blogger.com.) This type of page would be filled with all your posts from a given category and display posts from most to least recent, with the most recent posts showing up first.
While that kind of page is helpful, it's also very common and doesn't showcase your best posts, just the most recent. And since I'm all about you standing out for all the right reasons, let's raise your game a bit and add in some really useful pages!
The Types of Resource Pages
To start choose the type of resource page that works for you, your topic and would be most helpful to reader.  There are 3 main types of resource pages.
1. The Start Here Page. The start here page is just what in sounds like. It's a page geared towards new visitors and walks them through the posts or information they need to know to understand your point of view or your topic. These pages are great resources if your topic is at all confusing to readers or if it's commonly misunderstood. This page helps you make the new reader feel valued – this page is obviously created just for them – and helps them be better informed – which we all love!
2. The Single Topic Page. Single topic pages go in depth on one particular area you blog about.  Try to choose the 3 topics you blog about most often and make those into resource pages. You don't have to worry about creating hundreds of these pages, visitors get overwhelmed with too much choice so stick to just a few.
3. The All Topic Page. This type of resource page covers pretty much everything that a visitor might need or want to know about your blogging topic, or your blog, in a single page. This could include a number of your all time best posts, external resources, books, tools, software, physical products, etc. Whatever insider tips you can provide your reader about your topic would be an awesome addition to this type of page. When people feel that you're a go to source for the best info – they want to come back.
Formatting Your Page for Best Reader Experience
You could create a resource page that is a list of links running down a page. But that doesn't sound very interesting, does it?
Instead of a plain list try to incorporate:
Images
Varied text formatting (think bullets, numbered lists and shorter paragraphs)
Use subheadings to break up the page and make for easy scanning
If you're gathering emails subscriptions on your blog either to email your blog posts or publish a newsletter, resource pages are a great way to encourage people to join your list.  What better way to demonstrate your incredible value and knowledge than through a resource page! To encourage email sign ups, you should add an email opt-in form to your resource page and if your theme allows, it's great to remove sidebars to reduce distractions as well.
Another bonus of a well done resource page is that other people are more likely to link to it that a general, automatically created category page. Links to your blog from other blogs are a great way to grow your traffic, increase your search rankings through Google and your influence as a go to person in your niche.
Example of Resource Pages
Here's 6 examples of different types of resource pages from around the web to give you inspiration for your own!
Pat Flynn's Start Here Page :: Smart Passive Income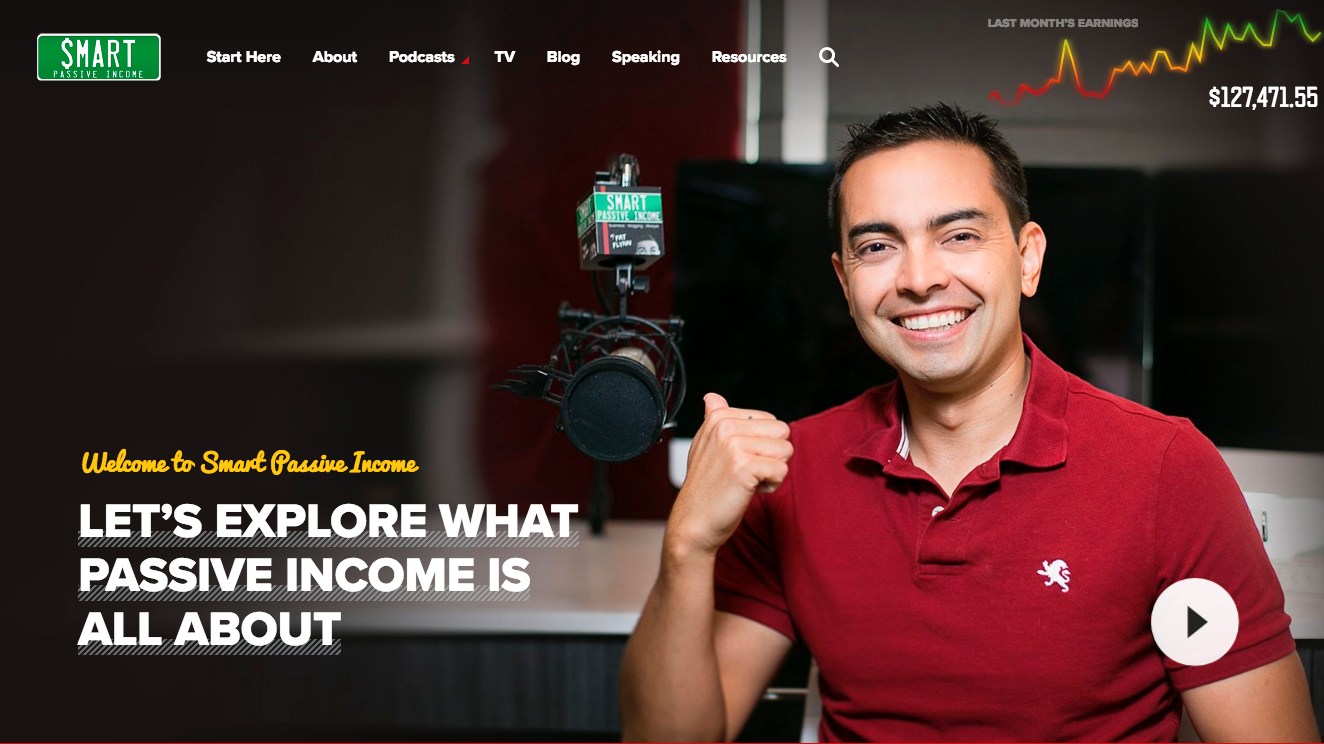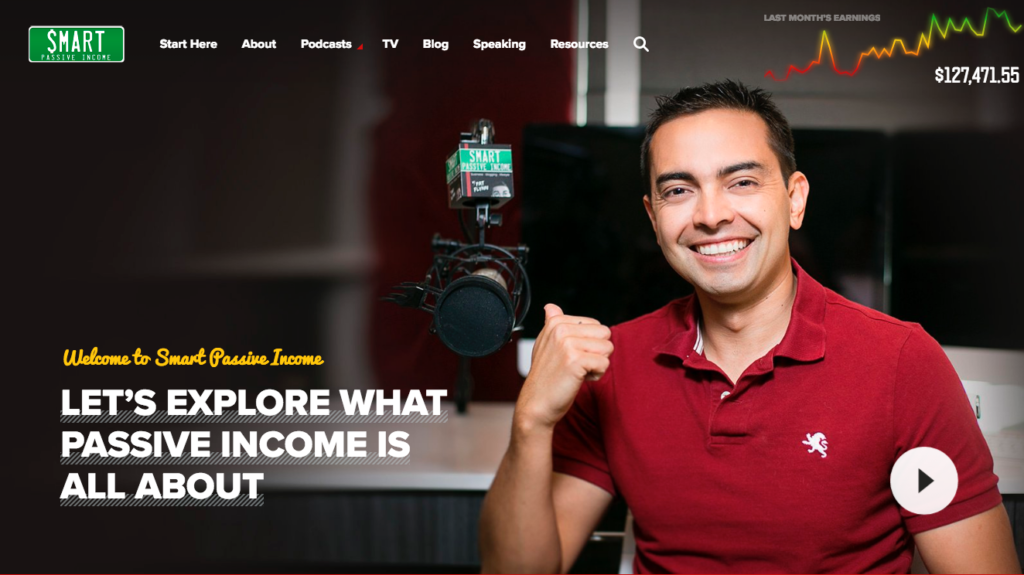 What I adore Pat's start here page is that it's clear, reader focused and above all helps to explain how he approaches the whole concept of passive income.
Remember how I mentioned start here pages are great if you have a confusing or misunderstood topic? It's also great if you approach a topic from a unique angle, like Pat does.
The term passive income has a bad reputation in some part of the internet, and with good reason, some people are slimy – Pat is not, and his start here page will set you straight on his version of passive income. Also check out his podcast for great ideas on growing your blog too!
Pinch of Yum :: Recipe Archive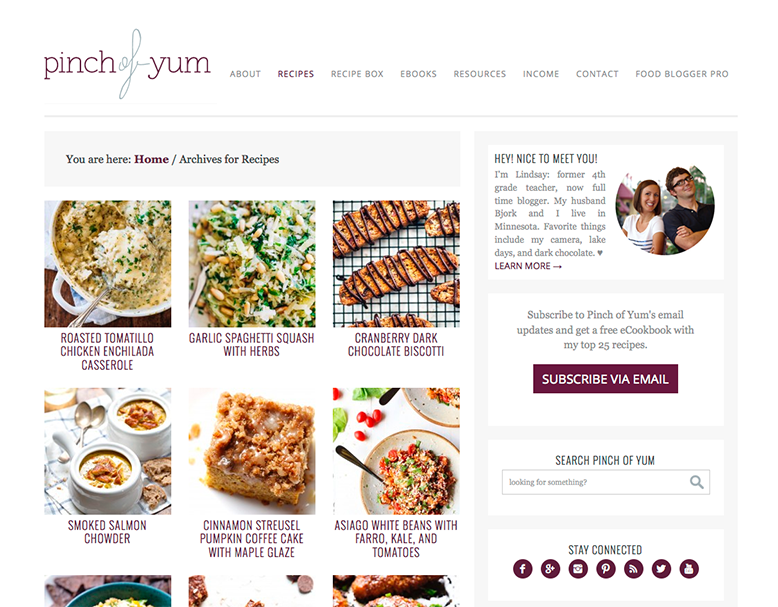 Visual topics need visual resource pages and Pinch of Yum does pictures very well!
This recipe page is actually a chronological archive but it's done without any body content so all the emphasis is on their beautiful photography!
If you're not a coder or don't want to spend time figuring out how to create a picture only recipe page, there are ready-made themes built with this functionality already – like Foodie Pro.
Danielle LaPorte :: #TruthBombs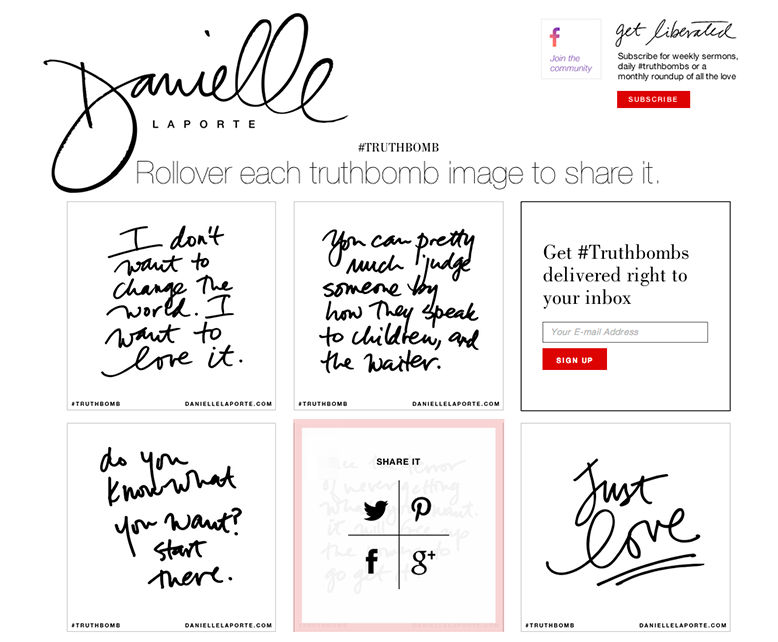 Danielle LaPorte's #truthbombs page is a visual gallery of all her fabulous #truthbomb's. When you hover over the images (I've highlighted the lower middle pic in a red square) you have sharing options to push all these beauties out into the world.
Do you have graphics, quotes or other shareable content that would lend itself to this type of presentation?
Authentically Emmie :: Plus Sized Clothing Directory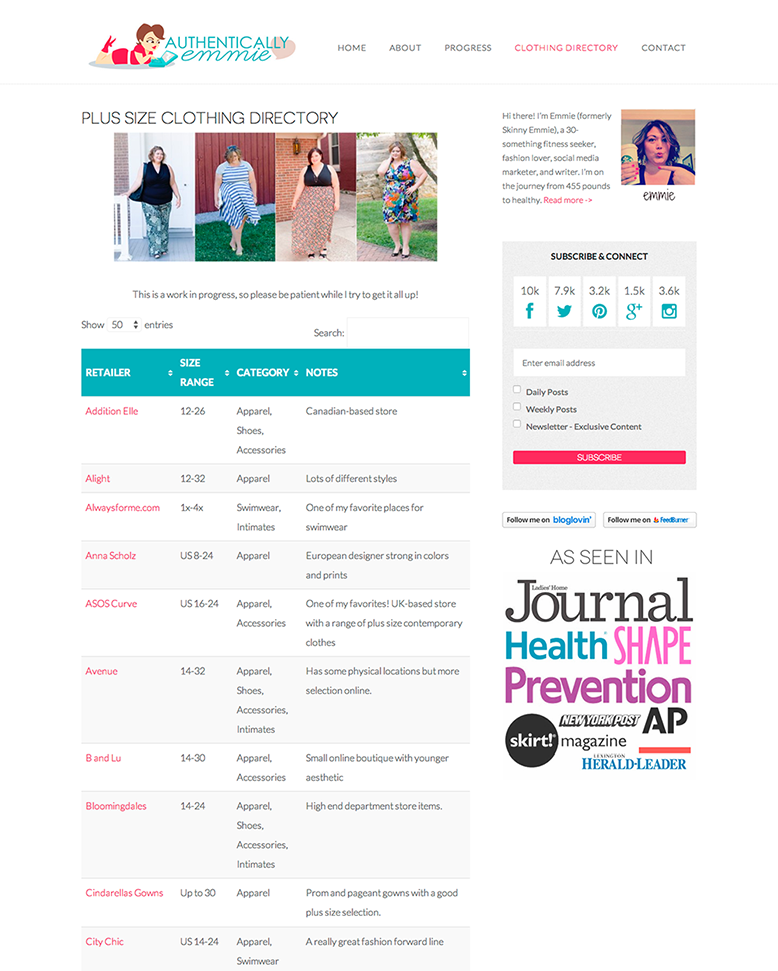 Emmie's Plus Sized Clothing Directory is a list of 57 different plus sized clothing companies arranged in an easy to read and organized table. Now this resource page isn't highlighting Emmie's own personal content but it's serving a need of her audience – finding great plus sized clothes!
Pages like this help show your readers that you have their interests at heart and showcase your knowledge around your unique topic and are magnets for social shares!
How do you track if your resource page, or any page on your site is working to grow your business? We can help.