Do you remember before you started blogging when you thought that writing a post was going to be the most time consuming thing you had to worry about? Yup, me too.
And then came the social media, the emails, and the projects that never seemed to get done. There's a lot more to blogging – than blogging.
So how do you get it all done, and stay consistent without letting this whole blog thing take over your life?
For me, staying on top of my blogging to-do's is about 2 main things:
Managing distractions and maintaining focus
Knowing what tasks to focus on
Two weeks ago we covered the simple technique I use to maintain focus while working online and today we're going to dive into part 2, knowing what tasks to do each day, week and month to move your blog forward.
One of the biggest time wasters for new and old bloggers alike is jumping around from task to task without any real sense of purpose or direction. This week, let's try something new and see if we get a better result!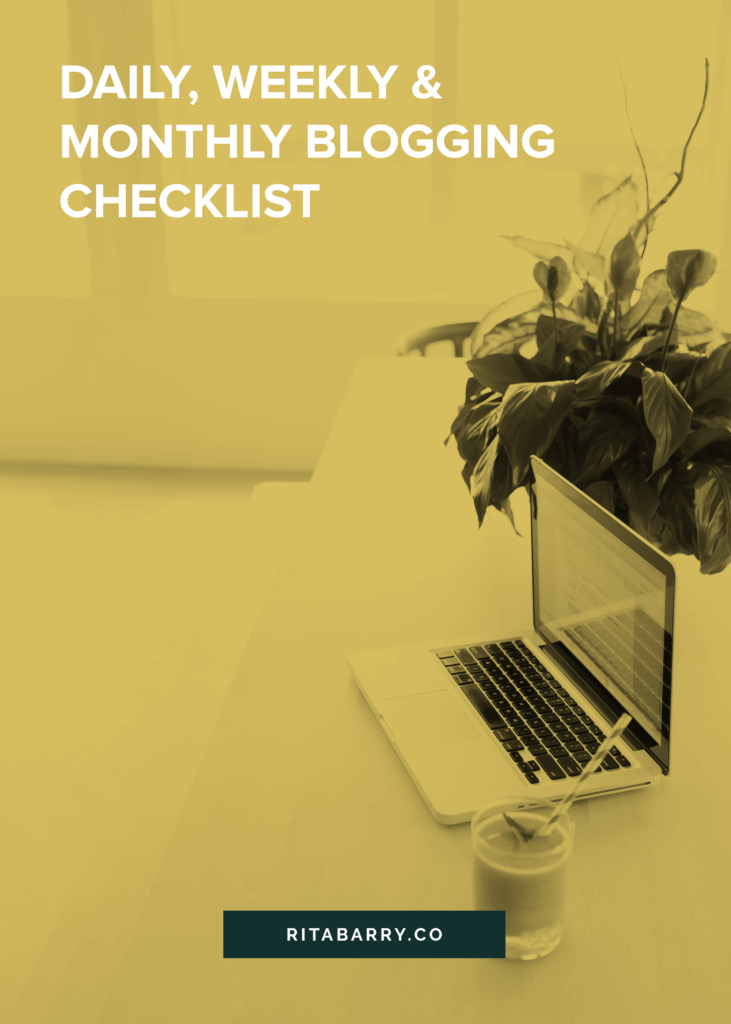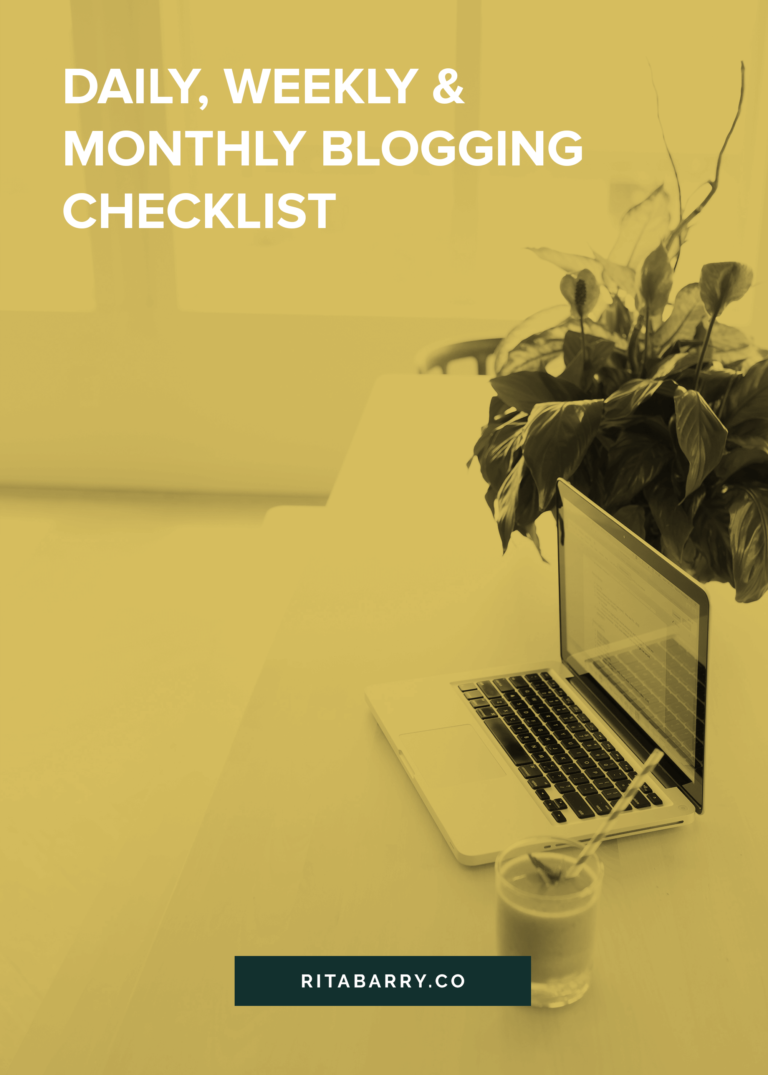 Daily Blogging Schedule
Each weekday I complete the following tasks with the help of my favorite blogging productivity tools.
Process email (time varies but I use Unroll.me to keep my inbox pretty clean and manage subscriptions)
Check and reply to Twitter mentions and direct messages (5 minutes)
Check and reply Facebook Page and Facebook Groups Group (10 minutes)
Respond to blog comments (Since I post weekly, I mainly do this once a week but like to keep it on the list so I check daily.)
Weekly Blogging Schedule
This is where the majority of my time is spent – in the tasks that make up my weekly routine. I've found that when it comes to things like heavy social media use or blogging, daily is simply beyond the time I have available so I break it down to a few times a week to make the whole process more enjoyable.
Now my weeks don't always look like this but it's what I shoot for, it's the ideal. I've found that simply having a guide always works out better for me than when I just winging it. If I have a number of weeks in a row that are way off of my ideal – it's time to re-examine my expectations or my commitments and make changes.
Sunday: 1 hour, 40 minutes
Planning priorities for the week: website design, coaching & product development (30 minutes)
Proof read Tuesday's blog post (10 minutes)
Monday: 1 hour, 30 minutes
Create graphic for blog post (10 minutes)
Write and schedule weekly newsletter in Mailchimp (10 minutes)
Schedule social media updates related to Tuesday's blog post (10 minutes)
Daily social media (15 minutes)
Read, comment & share other people's content via Feedly (45 minutes)
Tuesday: 1 hour, 30 minutes
Respond to comments & social media related to today's post (30 minutes)
Daily social media (15 minutes)
Read, comment & share other people's content via Feedly (45 minutes)
Wednesday: 2 hours, 15 minutes
Wednesdays are usually Skype days. I try to plan all my client coaching, interviews and other "on camera" time together because I found it most efficient.
Interviews/Podcasts (60 minutes)
Mastermind Group (60 minutes)
Daily social media (15 minutes)
Thursday: 1 hour, 5 minutes
Finalize blog post topic for next week (5 minutes)
Daily social media (15 minutes)
Read, comment & share other people's content (45 minutes)
Friday: 1 hour, 15 minutes
Write outline for blog post topic using my post writing template (30 minutes)
Blog maintenance: update plugins, clean spam, optimize databases, etc. (15 minutes)
Enter financials: income and expenses (15 minutes)
Daily social media (15 minutes)
Saturday: 1 hour
Breaking down the process of post writing into smaller steps has really helped me enjoy the process more and write better content (at least that's the goal!) It also feels more manageable and that I get it done faster each week than I used to when I did the whole process in one sitting.
Of course if you write multiple posts per week, your schedule is going to look a bit different but the idea is still the same.
During the week, I also have blocks of time scheduled for the priorities I firm up during Sunday's planning session. This can range from client design projects, personal website improvements or creating new products and services.
Monthly Blogging Schedule
Monthly tasks were often the ones that slipped through the cracks because I didn't do them often enough to make them become a habit. Once I added them to my monthly list, they started getting done and I was able to make improvements and informed decisions.
Check Google Analytics (1 hour)
Check highest traffic posts in Google Analytics and optimize (15 minutes/post)
Check email list conversion rate and individual newsletter stats (open rate, clicks, etc.) and enter into spreadsheet. Makes changes as needed (20 minutes)
Post topic brainstorm, create 4 weeks worth of post ideas and add to editorial calendar (1 hour)
Update media kit with new stats (5 minutes)
Research and reach out to 5 guest posting, interview opportunities (1 hour)
What'd I miss? Any tasks you find yourself doing again and again (or putting off all the time) that should go on the schedule?