When was the last time you looked at the Google Analytics for your blog?
Last month? Last year? Never?
Now here's another question for you, when's the last time you looked at your Google Analytics and took action on something you saw in there?
Um, Never?
That's where this post is going to come in and give you 3 easy actions to actually put all that great info to good use. So you can stop opening it up, looking at your pageviews and then going cross eyed before you close it again.
1. Improve Top Posts & Pages
Where to Look in Analytics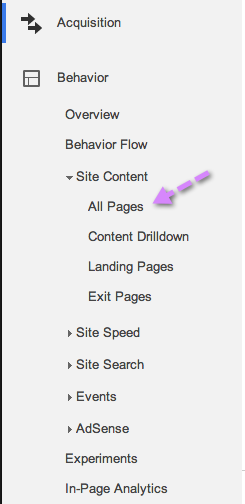 Behaviour > Site Content > All Pages
Why it's Important
Your blog likely has a few posts that make up the lion's share of your traffic. They've either been linked to by an influential website or they might have hit the search engine jackpot.
Whatever the reason, you want to optimize those posts a bit differently than the rest of your blog.
What to Do
First, update the post if it's a bit out of date. Posts that pull in high traffic from search engines consistently are often a bit older and may need a touch up. You can add additional content making it a more thorough resource or just update what's already there making sure it shows off your best stuff.
Second, add an email opt-in to the post to capture some of that traffic as an ongoing email subscriber. Traffic is great but if it comes and then leaves again, it's not doing you any long term good. Email subscriptions ensure that you continue building relationships with your new readers.
2. Figure Out Visitor Flow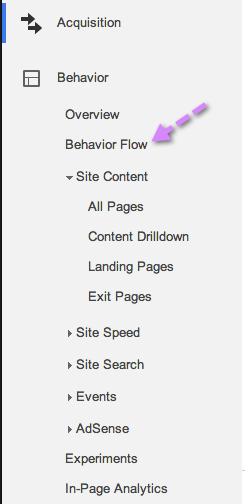 Where to Look in Analytics
Behaviour > Behavior Flow
Why It's Important
You no doubt spend a little time working on your blog design and layout. Switching up navigation, changing the sidebars around, and on and on it goes. Days can be lost to blog fiddling!
When you look objectively at what your visitors click on when they land on your homepage, you'll get a crystal clear picture of what's more important to them (and what never gets clicked on.)
What to Do
For this example, I'm going to take a look at just the traffic that lands on the homepage to see where people go from there. You can select any different number of entry pages, just click the one you want to look at in the chart.
When you land on Behavior Flow you're going to see a chart that shows you have visitors are moving through your site. It's going to look a bit like this: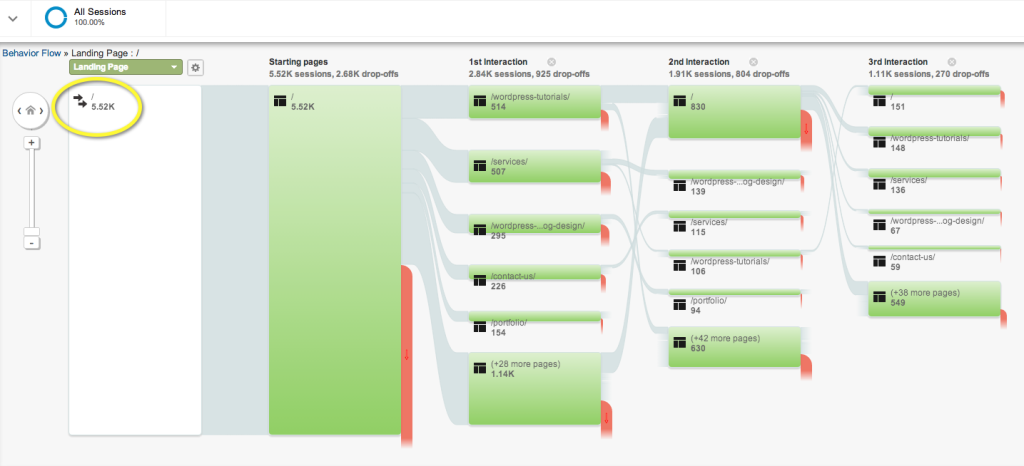 As you can see from the yellow circle in the upper left corner of the graphic, this chart is isolating the homepage landing traffic. It's designating by the "/". I can see from the chart that the majority of people go from the home page to WordPress Tutorials which is the blog, then Services, then the WordPress Blog Design Services page, etc.
Now that you know where people go, it's time to ask yourself:
Where do you want people to go from this particular page? How can you change your navigation, add a button, better link color, remove distractions, etc. to encourage the behavior you want.
What items in your navigation/on the page are not being clicked on? If you have a lot of navigation items or clickable items that aren't being used, it's a good idea to cut remove the clutter and focus on a few, very important ones. When people have less choice they often click more because it's not so overwhelming to choose. Make changes and see how that affects your visitor flow a month from now.
3. Focus on What Works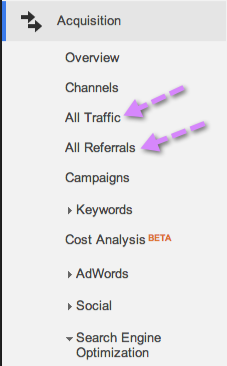 Where to Look in Analytics
Acquisition > All Traffic
Acquisition > All Referrals
Why It's Important
Blindly focusing on building pageviews is not only frustrating but it's also not the best way to grow traffic because all traffic isn't created equal.
You can get a flood of traffic from Stumbleupon or another social media site but look at the time on site for that traffic.
It's often much lower than your other traffic sources.
Traffic that comes and goes are not the folks who are signing up for your email subscriptions or becoming part of your community.
Take a look to see where most of your visitors are coming from, both sorted by Sessions (higher volume of visits)

and by Avg. Session Duration to see which sites are sending you traffic that are highly engaged with your content:

Maybe at first glance 149 visitors might not seem like a lot but they had a very low bounce rate (meaning they looked at more than one page) and their time on site was way longer than average. I also have Google Goals set up for my email subscriptions so I know that those two traffic sources signed up for my email list at nearly 70%. To put this in perspective, more people signed up for my blog posts from 149 visitors than from the 6,229 Pinterest sent over.
Quality over quantity.
What to Do
After you see which traffic sources are doing well for you in terms of average session duration, pages per session etc. focus on curating more of those traffic sources instead of going after big flashy numbers. You'll see more blog signups, more engagement and better community as a result.
Additional Resources
Google Analytics Spreadsheet for Google Drive : let's you see only the data you want in a simple to use spreadsheet.
Have you ever opened your Analytics just to have your eyes gloss over and close it again? I'd love to know how you use it to better your blog or maybe how you plan to use it now!