You've got your email optin form in your sidebar, maybe even an optin offer ready to go and yet, you're still having trouble getting people to sign up for your list.
Sound familiar?
The gap between having the email system in place and struggling to grow that list with actual, real, engaged subscribers is very common. It's also one of the reasons that people feel their email lists aren't working.
Growing your list requires more than just having the tech set up – it requires directing reader attention to the right places on your site. It requires an optin page.
What is an Optin Page?
Also called a landing page, an optin page is a page on your site that has the single goal of signing people up for your email list by acting like a "sales page" for your free optin offer. Traditionally all the other navigation and distractions are removed to direct attention to the desired action – email sign up.
When someone lands on your blog, how many different things do they have to look at? How many different options do they have to click?
No wonder people aren't sign up!
A dedicated optin page allows your reader to make one single choice that is presented to them: sign up or press the back button.
The majority of bloggers I work with are not natural sales people. They're a little apprehensive to be too "in your face" or feel like they may turn readers off if they're too forward with their email optin offers.
So, they put their optin offer up but make it subtle and are a bit shy and apologetic about the whole thing.
And that approach is doing a disservice to your audience.
Your audience appreciates your insight, they value your point of view, and your email optin offer is a service to them, not something to be hidden or downplayed.
Let's get loud and proud about that offer and create a very un-subtle optin page!
Elements of an Optin Page
To sell your optin offer and get people to sign up for your list there are a few elements that you'll want to include on your optin page.
Headline
Your headline is your promise, your hook, the thing that grabs attention and pulls people in, piques curiosity or tells them exactly what they're getting.
How you approach your headline will depend on your personal writing style and your brand but here's a bunch of title templates to get you started from my Pinterest boards.
Headlines should be formatted with a nice large font that's easy to read, usually your site's Heading 1 (h1) size is a great fit.
Subheading
Your subheading is all about benefits and explains your optin offer in a bit more detail. Think of it like this, your heading grabs attention and then your subheading explains the offer.
Naturally you'll want your subheading to be smaller than your headline so that there's a logical visual hierarchy to help your reader's eye flow down the page.
An Image (Left of Right Aligned)
After the heading section we're into the main body of your optin page BUT we don't want to go all in on the text just yet.
Our brains register long lines of text as challenging and time consuming to read so to help a reader feel like the page is easy to digest, add an image that is left or right aligned to your optin page.
See this technique in action below. Even though both pages have the same text content, the one with the image feels like it's shorter and easier to read.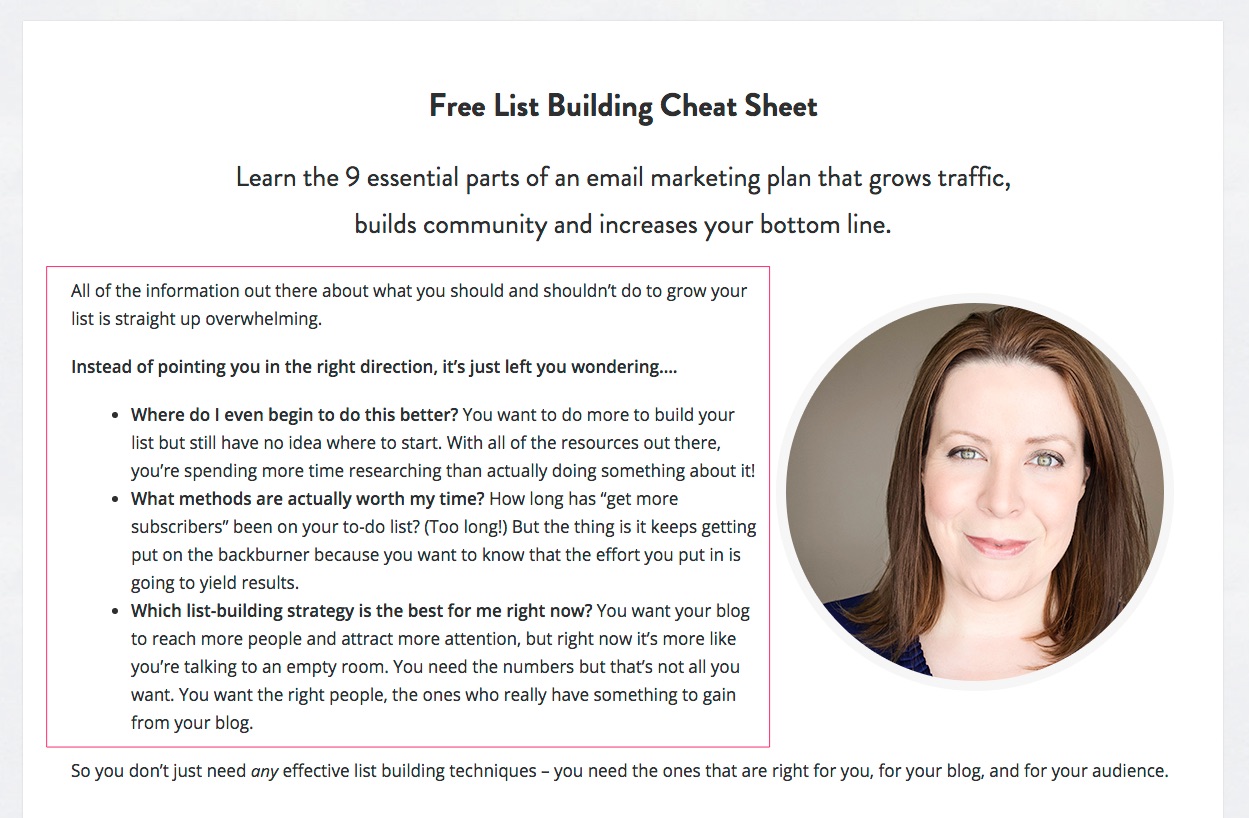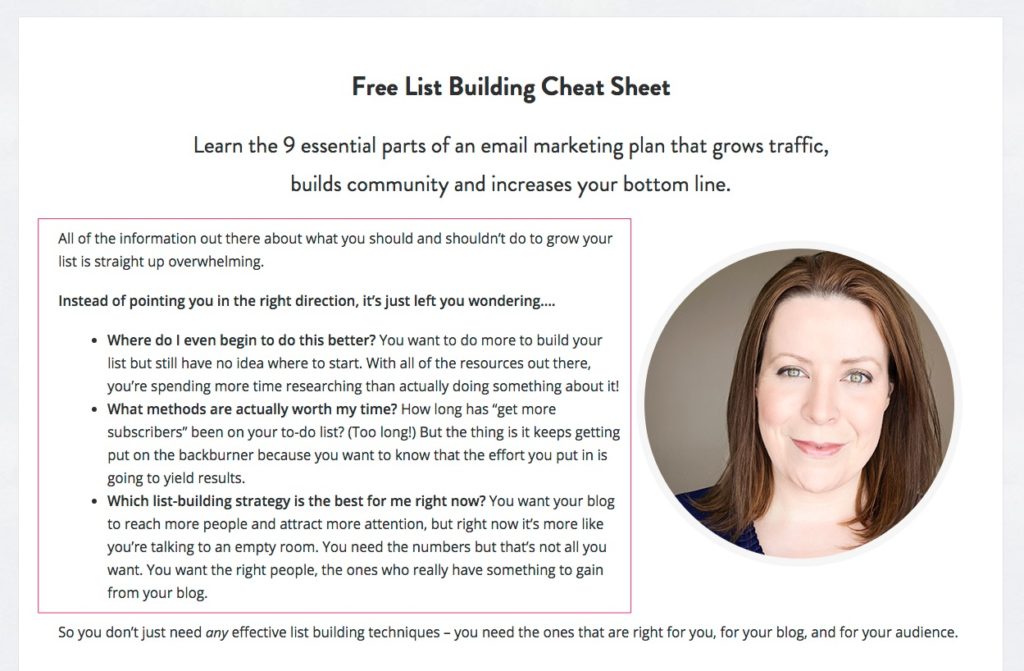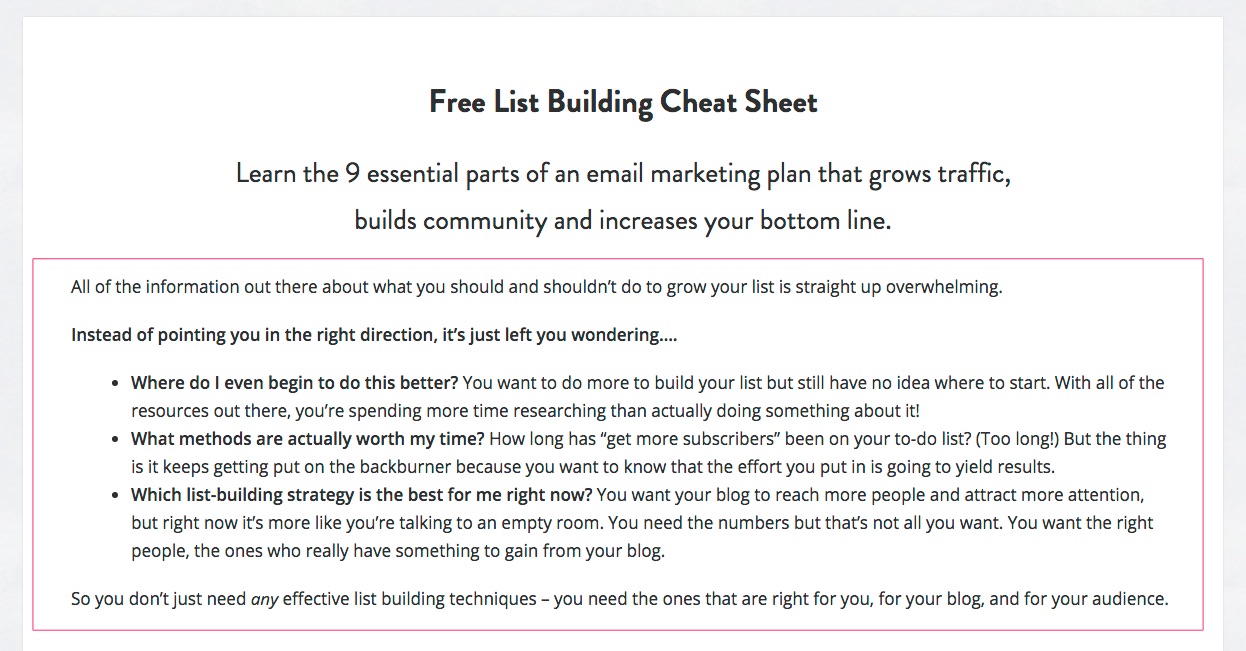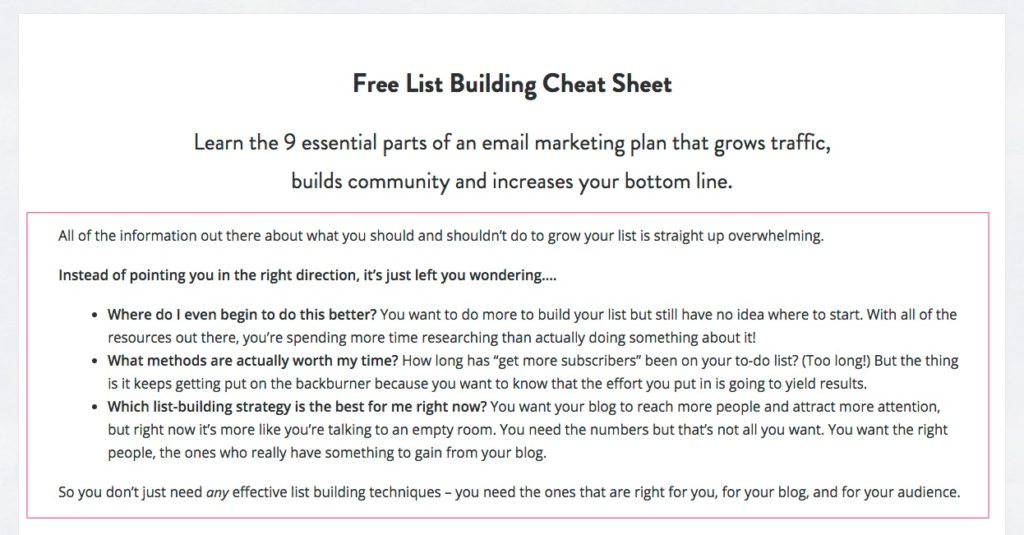 The "image" could also be a video taking up that space as well. You don't have to limit yourself to only an image but that's often the easiest place to start.
You can use a picture of yourself, as I did in this example, a picture of the optin offer or another picture that represents your target audience. Discovering the best image is going to require testing and we'll discuss how to do that below.
Copy & Benefit Bullets
We all know that when writing for the web we need to break up text with short paragraphs, bullets and numbered lists to keep things scannable, right? Optin pages are no different.
Allowing for a lot of white space and varying text formats makes your information digestible and helps your reader see the benefits of signing up quickly.
And speaking of benefits…
When writing the copy for your optin page you'll want to focus on the benefits your reader will receive when signing up, not the actual format of the optin offer itself.
For example, if you were creating a 7-day workout for beginners optin offer some benefits for the reader would be:
increased confidence
save time not having to plan workouts
improved mood
etc.
However, it's really common to focus on the format of the optin (like it's a 34 page PDF!) or the delivery (you'll get one email everyday!) rather than the benefits.
Format and delivery are important but secondary to the benefits.
People want to know how your optin will improve their unique situation and what transformation, however small, they'll experience. They aren't usually as focused on the nuts and blots of the offer so put your focus where it matters most – benefits.
Call to Action
A call to action means requiring your reader to act and then presenting them with a means to do that action.
In the case of optin or landing pages, you want them to input their email so you'll either need a button for them to click which takes them to a pop-up sign up form (or an offsite signup form) or an actual sign up form embedded on the page.
All of these approaches work, button or form, but it's worth testing the conversion rate with each option.
On the optin page example I used above, there is a sign up button rather than a form. That was chosen because the page was more successful with a button. It's not a design decision or a guess, that was a testing and measuring situation.
I encourage you to measure these sorts of variations on your pages as well. In the case of my page, the button helped raise the conversion rate 12% over a regular sign up form!
Another small detail that can have a big difference is your button copy. I like to have the buttons be as description as possible. Instead of saying "Sign Up Now" you can have something like "Get My Workout Routine."
Social Proof & Testimonials
Social proof is a powerful conversion tool and one that you should put to use on your optin page.
Either through logo displays, testimonials from clients or even kind words from an email subscriber, add some authority to your page by trying out different kinds of social proof options.
Just as with the call to action, test out different placements and combinations of social proof. For some audiences, a testimonial may convert higher than logos or vice versa. The only way to know for sure is to test!
Optin Page Tools
Creating optin pages is a multi-million dollar business and as a result there are a ton of tools at your finger tips to help you make them.
But having so many tools can be really overwhelming and making your optin page shouldn't be that hard. If you're interested in the tools and services that I use and recommend, you can check out last week's post on the best email list building tools for free and paid options.
How to Measure & Improve Your Optin Page
Design shouldn't just look good, it should actually accomplish a purpose and in this case the purpose is to increase sign ups to your email list.
Since your goal is clear, measurement becomes pretty straight forward. You'll want to measure, weekly or monthly depending on traffic levels, the amount of people who arrive on your optin page vs the amount of people that sign up. That number is your conversion rate.
Over time, you can test the body copy, different images, different headlines, different call to action messaging and see how those individual changes affect your conversion rate. This testing is all done through the "Goals" section in Google Analytics.
If setting up a "Goal" in Google Analytics gives you the willies, I've got some good news for you. First, you only have to do it once and then set a calendar reminder to check it periodically. Second, I have a detailed step-by-step tutorial on how to get the whole system set up.
Add Traffic and Stir
Now that your optin page is done, optimized and ready for it's debut, the time has come to start driving traffic towards the page.
Outside of simply linking to your optin page in blog posts you can also:
Create shareable social media images and promote on various social networks
Link to the page in your main site navigation
If it's in the budget use paid social advertising – such as Facebook, Pinterest or Twitter
Guest post and use your optin page as the link back to your blog
Update your social media accounts with your optin link
Use pop ups, slide-ins or other sorts of on site marketing to make people aware of your optin offer
Create content on the same topic as your optin and reference your optin offer as a way to get more info on the topic
Add an image or "ad" below your posts or in your sidebar for your optin offer, leading people to your optin page
Create the system, drive the traffic, measure your success and iterate to make it better! 
Additional Resources