Real Mom Nutrition
Email Optins +350% after redesign
Since 2009, Sally Kuzemchak has been rescuing parents from dinner time meltdowns with a dose of self-deprecating humor, healthy recipes and a huge does of reality. After 7 years of a traditional blog layout, Sally approached me to transition Real Mom Nutrition into a design that could showcase the ever changing list of resources, printables, ebooks and guides Sally has developed to bring more information to her readers in an organized and functional way.
Services: Sales Page Design, Conversion Rate Optimization, Email Marketing Consulting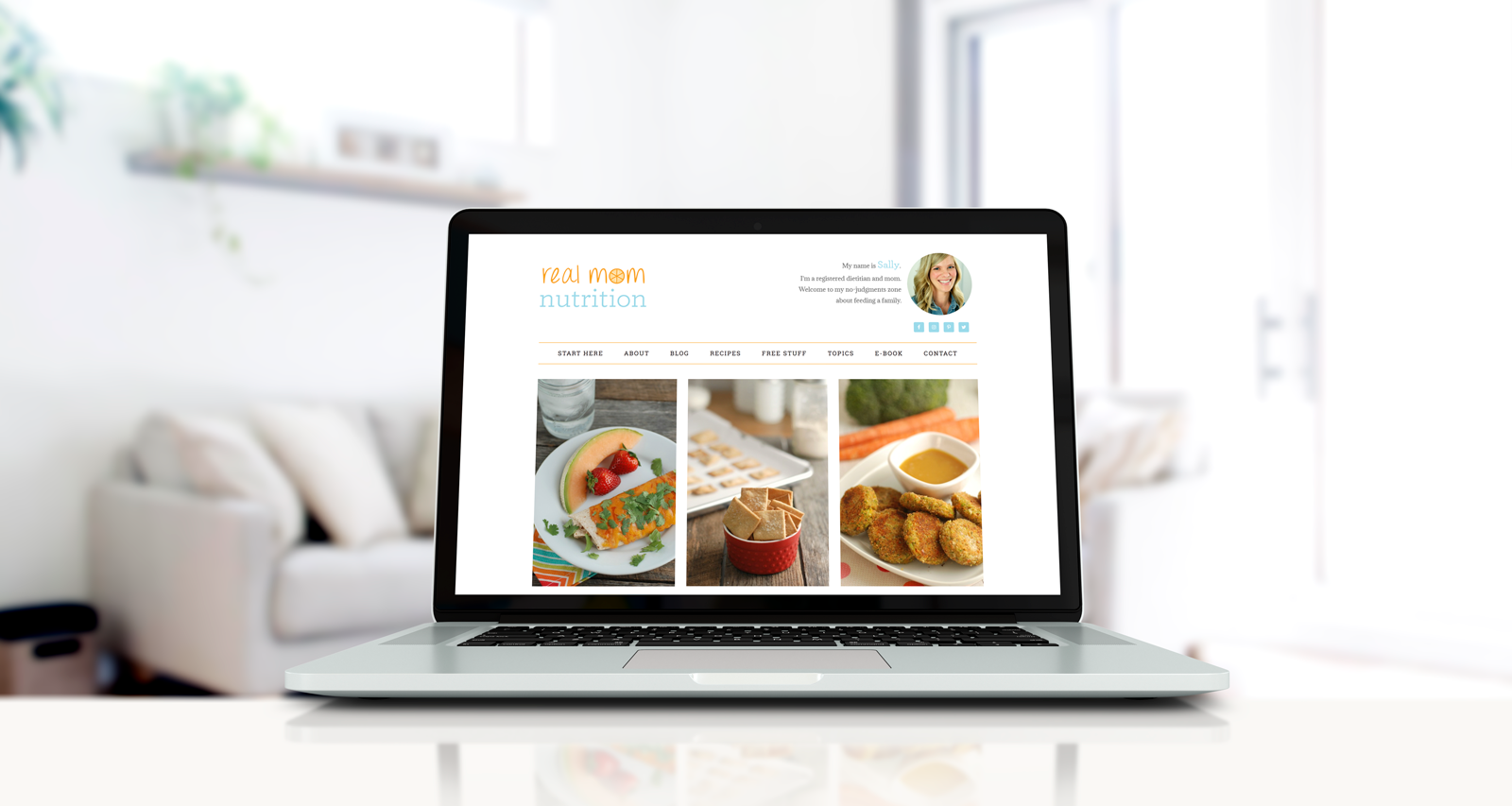 When Over 60% of Your Traffic is Moblie...
Serving busy parents who are balancing dinner prep with school pick up means designing from every angle (and every device). Understanding the context of Sally's traffic (what are people doing while they are using the site) was vital to designing the bext user experience.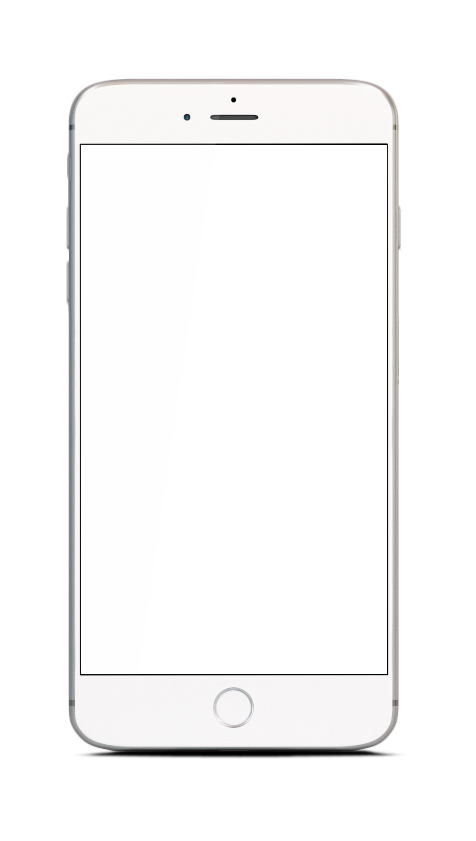 Judgment-Free & Eye-Catching
Sally creates recipes, resources and provides easy to use strategies for parents of young children. While there's a lot of blogs and websites about this topic, Sally's got the letters behind her name to back up her advice (she's a Registered Dietician) and 2 busy kids to test on! Our design reflected her upbeat and judgment free personality while providing a clean canvas to showcase her beautiful food photography.
She's Got Mad Skills
Sally one of the most down to earth and humble people I've ever worked with. With a traditionally published cookbook, multiple features in Parent Magazine, The New York Times, Ladies Home Journal and countless local television appearances, she's cooked up a lot of great press over the years. The previous website was a bit shy about Sally's accomplishments so we highlighted them tastefully to help visitors know that in a sea of blogs, Sally's got game.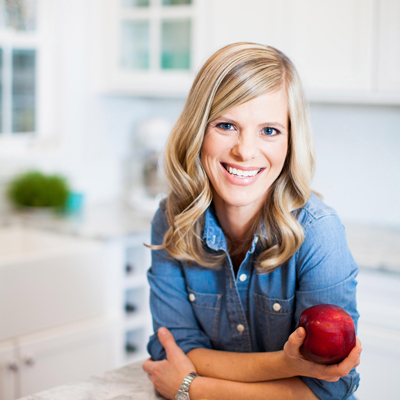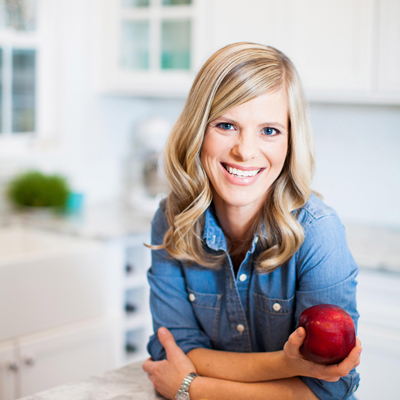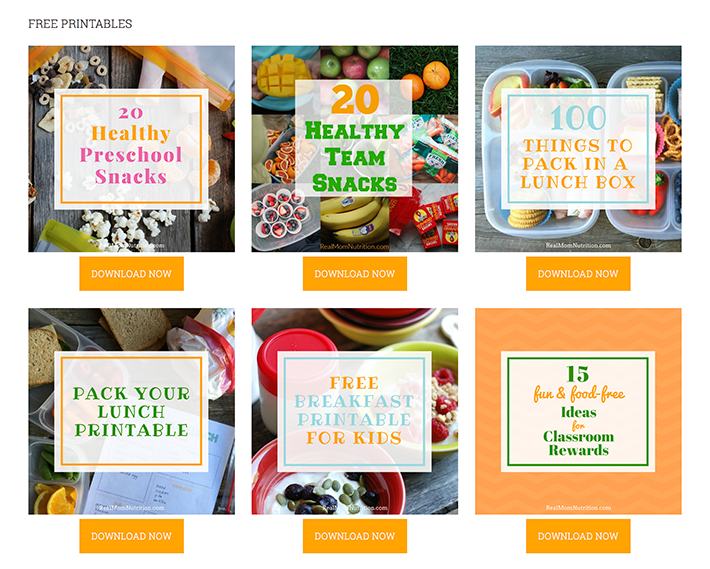 Optin-omatic
With 7 years of blog content, we had an embarrassment of riches when it came to resources, printables and checklists when we started to focus on building Sally's email list. Previously, these great resources were hiding in 100's of pages of content so we dug them out and created an easily updatable homepage area for Sally to feature the latest and greatest along with a more robust resource page that collected all her downloadable resources in one easy to browse space.
Through the redesign, we were able to boost email sign ups by 350% just by repurposing content already on the site.
The Birth of a Snacktivist
In her 2011 blog post, Sally described the birth of her Snacktivist movement..."Let me tell you about soccer. The Capri Sun flows like water at soccer. There are Pringles. And Ritz Bits. And Oreos. And cupcakes. Sometimes Oreos and cupcakes. It is a six-year-old's paradise at soccer." After years of watching junk show up on the sidelines, Sally not only started to do something about it in her own life, but she also created comprehensive resources to help others make changes in their children's sports snacks as well.
In 2016, Sally launched her first paid product and as part of our redesign efforts, we built out the design, assisted with launch planning and the copy flow of her sales page plus all the tech and email integration.
I was feeling completely STUCK. I felt like I needed to take my blog to another level or get out of the game entirely. Thankfully, Rita gave me the direction I needed to elevate and improve my blog–not only the big-picture pep talk I needed, but also the nitty-gritty, nuts-and-bolts stuff I needed to do and change to make my blog better. And when I didn't have the technical know-how to do it myself, she walked me through it. I will forever be grateful to Rita for busting me out of my blog crisis!
Sally Kuzemchak, Real Mom Nutrition
Interested in talking about

your project?