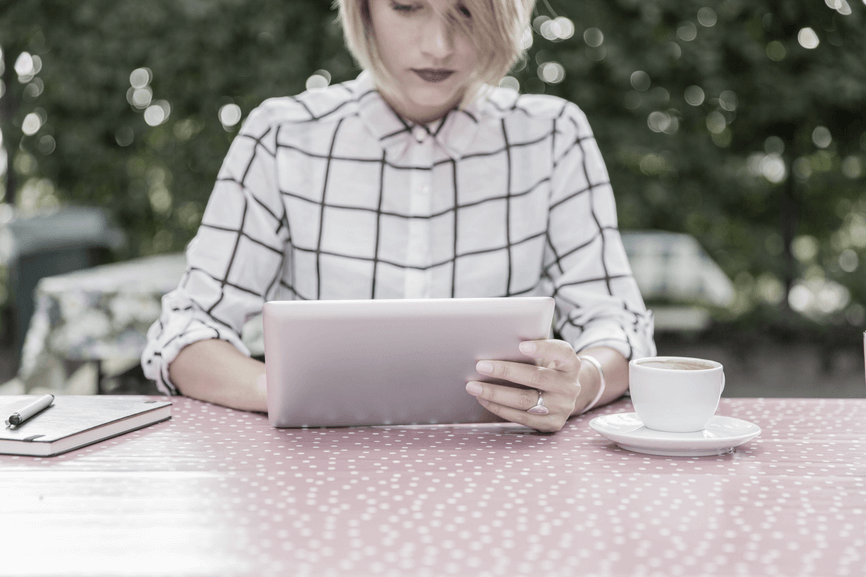 You know that anticipation filled moment before you make a new web design live? The moment when anything is possible?
When the design can catapult you to fame and fortune.
When the design can get you booked on the biggest podcast in your niche, and they get in touch with you, not the other way around.
When the design can help you finally make this hobby-business into a business-business.
So… you hold your breathe, press the big red button and make the site live.
But instead of cheers and noise makers, it sounds more like the air being let out of a balloon as it flies around the room.
Been there before?
It's brutal. But trust me, you are not alone – in fact, parades and cheers are the exception, not the rule.
And the reason?
DIY'ers approach website design like an art project. Designers on the other hand, approach website design like problem solvers because that is what we are.
"While it is absolutely true that designers are uniquely skilled at taking something from rough concept to beautiful completion, that final deliverable must — at its most fundamental level — successfully address whatever shortcomings it suffered from in the beginning." via Hubspot.
Web design for digital entrepreneurs is about a beautiful marriage of art and science, of form and function, of hard data and big visions. It really has very little to do with having just the right shade of blue on your buttons.
And this is where I see so many folks struggle.
By getting bogged down in the tiny details of their web design – they lose months of business growth focusing on the wrong things.
5 Key Steps to Planning a Web Design that Grows Your Business
If your current design isn't working and you're thinking about making some changes, either major or minor, here's a few questions and tasks to start your web design planning.
The answers will help guide you to a better site and a more profitable business.
1. What are the current shortcomings of your site? What issues are you having with your business or the growth of your business that you're trying to solve through the redesign?
This one can be a tricky question, especially if you haven't had any products or services sell yet because you don't know what you don't know.
Here's the 2 main issues that I hear about when doing pre-design strategy work with clients to see if that spurs any ideas for you.
A. Lead Generation Issues: low email conversion rates, low traffic
B. Lead Conversion (Sales) Issues :low email engagement, not selling anything, not selling enough or not selling consistently
I know it's never fun to look at your business and acknowledge the ugly underbelly that isn't working – but that's where you need to look to understand what you're trying to fix with any design project.
2. What are your business goals? Over the next 6 months, 12 months and beyond?
How can your website help you reach those goals? What role does it play in your marketing and product delivery? What capacities does it need to have to help you reach your short term goals?
Your design should support your short term goals but it doesn't actually have to support your long term ones, just yet. It only needs to be flexible enough to expand capacity later.
No one knows what their business is going to look like 2 years from now so don't stress yourself (and your wallet) out trying to build a site that supports an unpredictable future.
For example, say you're transitioning from blogger to business owner and are now offering coaching services.
Your short term goal (3-6 months) might be to make $1000/per month.
Your long term goal (2 years +) might be to have an education business with 4 online programs and a yearly retreat bringing in $30,000/month.
When planning the strategy for this website, don't worry about building your ecourse or researching learning management platforms – you're not there yet. Focus on the client services for now and what your website needs to do and be in order to rock that first goal.
3. With your goals in mind, what are the fewest number of pages that you need on your site to support your goals?
A few pages brilliantly written and well designed pages is often all you need plus it's a whole hell of a lot easier to maintain.
In our previous example, you'd need a way to deliver and onboard your client plus ways to support the marketing of your product.
For delivery, you'd need to add a services page, a way for prospects to get in touch with you – like a contact page, address ways to accept payments and then a process for gathering information about your new client. This can be done via a form on your website or even a Google doc.
For marketing, if you're already blogging and only adding services, the blog is already done! Additionally, you'll want to have an email marketing system in place for lead generation, nurturing and lead conversion.
Email marketing won't necessarily add any pages to your design, you can simply use embedded forms and pop ups or you could take things up a level and have landing pages for lead magnets, lead capture and to run paid traffic like Facebook Ads.
4. Write copy for the pages that make the cut or outsource them to a copywriter.
Your message and your copy comes before the design. Your tone and copy inform the rest of the project!
Too often business owners work backwards with their design. They start with a theme or layout they like, lured in by the fancy fonts, animations or images, and then they try and put their business into the theme.
A theme's pre-made layout is NOT necessarily the best way to layout your website. Most designers are not business strategists and aren't versed in email marketing or conversion design. We need to stop trusting businesses to someone else's version of an art project.
For example, I recently had a friend email me about what to put in "this box" that's part her website's theme homepage. That box was a pre-made area in the theme she recently purchased.
What should go in the box is the wrong question – the right question is should that box even be there?
That's why copy comes first. You decide on what to say and how to say it – then you design the website around your words!
5. Start Your Design Once the Plan is Done!
The entire process I've outlined here is truly all part of the design so let's say this is where the art project starts!
You get to take your goals, your required pages, your copy and bring it all to life, with just the right shade of blue on the buttons 😉
I know that it's fun to jump right into color palettes and fonts but I also know that it's even more fun to reach your goals and pay your mortgage!
Any web design project needs to start with research, planning and strategy.
This is where the vast majority of the work is. If you (or your designer) don't devote a significant amount of time up front to really understanding your business, your audience and your goals, your design is destined to fall flat – even if it's gorgeous.
Web Design Planning: Next Steps
Planning a website redesign this year? Make sure that you're talking about, and planning to hit your business goals with your website long before you talk about fonts, colors or branding.
Not planning a redesign this year? Then ask yourself what's the one goal you have in your business right now? Make $5000/month? Hit 1000 email subscribers?
Take 15-20 minutes to figure out how your website can be set up differently to support your short term goals. What's missing and needs to be added? What needs updating? What is extra noise and distracting from your goals that can be removed?